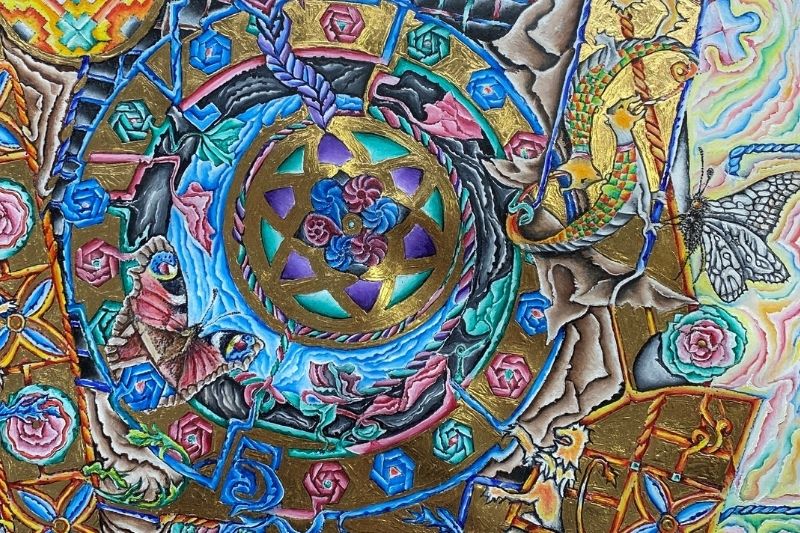 In autumn of 2021 we will welcome the artist Judy Hurst to exhibit her beautiful artworks of vellum and gold leaf.
The first contemporary art exhibition that the museum will host after reopening will feature the artist Judy Hurst. Her work is inspired by the Anglo Saxon and Viking world of the North East and the illuminated manuscripts that were created by them. Judy has adopted the same crafts and skills that the monks practised 1200 years ago, and weaves them into imaginative new stories.
One such story is that of Horsham town, a place she never knew of until her daughter settled here. Over three years of research, reflection and engagement, Judy has woven a remarkable "carpet page" that celebrates the stories and legends of the district. For this Horsham page, Judith has suspended the sheet of vellum in thin gold wire, allowing the vellum to expand and contract in the warm air, and creating a "living" work. Around the outside of Judy's artfully gilded design the Horsham dragon and lion feature. The vellum itself depicts the Rusper nuns, St Leonard's forest and the Bishop of Horsham as well as the River Arun, local plants and legends. All of these narratives are entwined in tendrils of colour and set off in a hand-crafted frame made by her Husband John.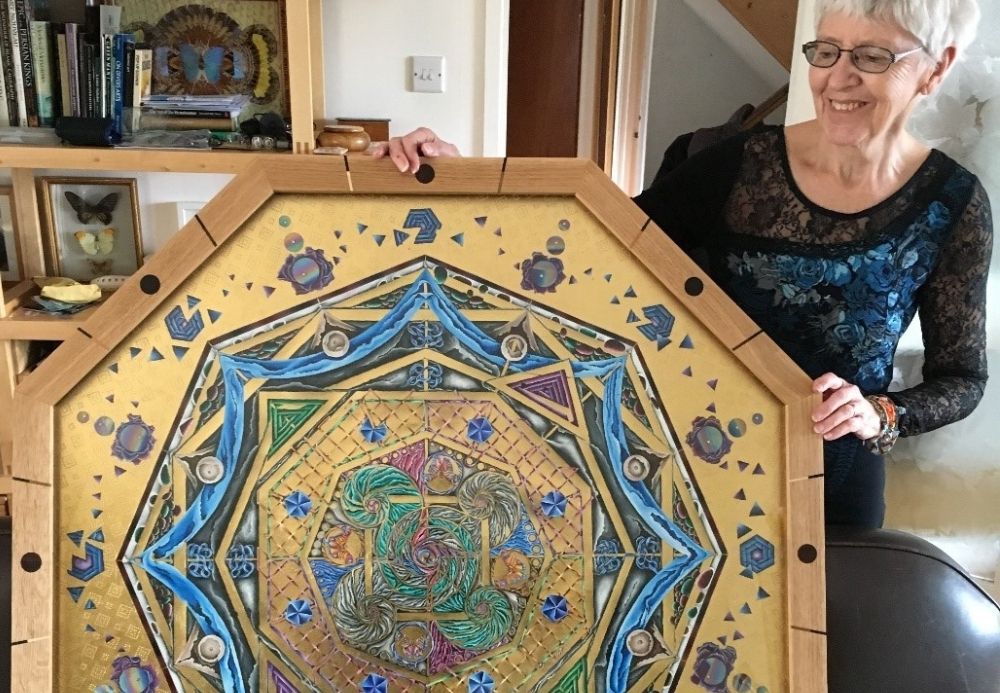 Horsham Museum is delighted to be given this opportunity to display Judith's work. She has exhibition at the celebrated Bowes Museum, John Rylands Library, Manchester and the gothic masterpiece of Durham Cathedral. The exhibition will be open the same hours as the museum; Thursday - Saturday, 10am - 4pm and will close on Saturday 8 January 2022.
Published: 13 Sep 2021