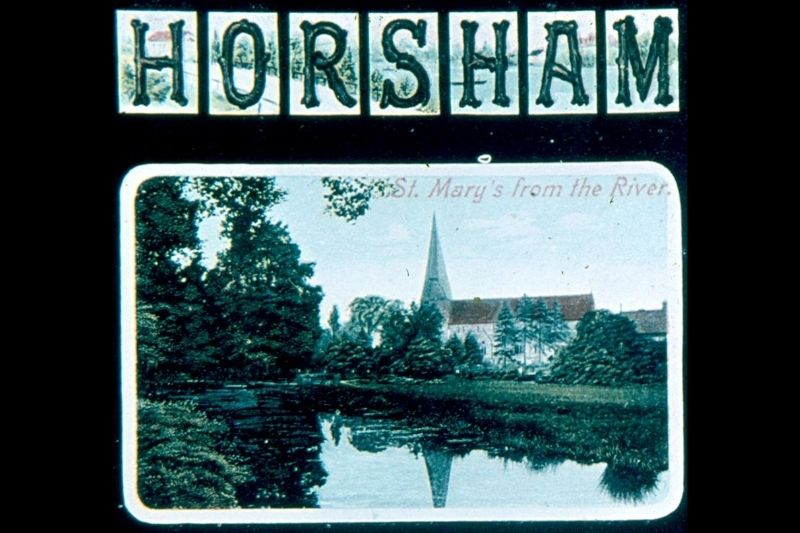 Blog post exploring the history of the picture postcard using images from our collection.
This summer as Britain decides to rediscover the delights of our own countryside, a tradition that took off in the age of the railway and later the rambler, I thought we would look at the leading souvenir of that era - the humble postcard. For all we know, as we return to our old holiday habits, postcards might make a comeback instead of emails, texts, selfies, or tweets.
The pictorial postcard, for Britain at least, is a relatively modern invention that quickly gained popularity. According to Pete Davies, author of Collecting Modern Postcards, "between 1900 and 1914 an astonishing two million picture postcards were posted in Britain every day." Postcards were useful in the early 20th century for a number of reasons:
They enabled short notes to be sent without the need to write a long letter. With no telephone or email, it was the only way to communicate long distance.
They were often sent and delivered on the same day. The postal service geared itself up to this demand, employing more postmen in order to facilitate a quicker turn around
They were cheap, often a halfpenny including the stamp, though the price later increased to a penny.
They enabled you to send a personal image, whether humorous, artistic or real life, enhancing both the pleasure in giving and the recipient's pleasure in receiving.
They were used as means of telling the news in a format that would later be mirrored by tabloid journalism – a strong image and a short summation of the information. With the speed of the postal service, people could respond quicker than newspapers in getting information out, and unlike postcards newspapers at the time had very few photographs or images.
They became a marketing device for towns, businesses and events. Reprints of historic photographs in postcard form, for example those of Thomas Honywood of Horsham town centre, helped to create a demand for information about, raise and interest, the town.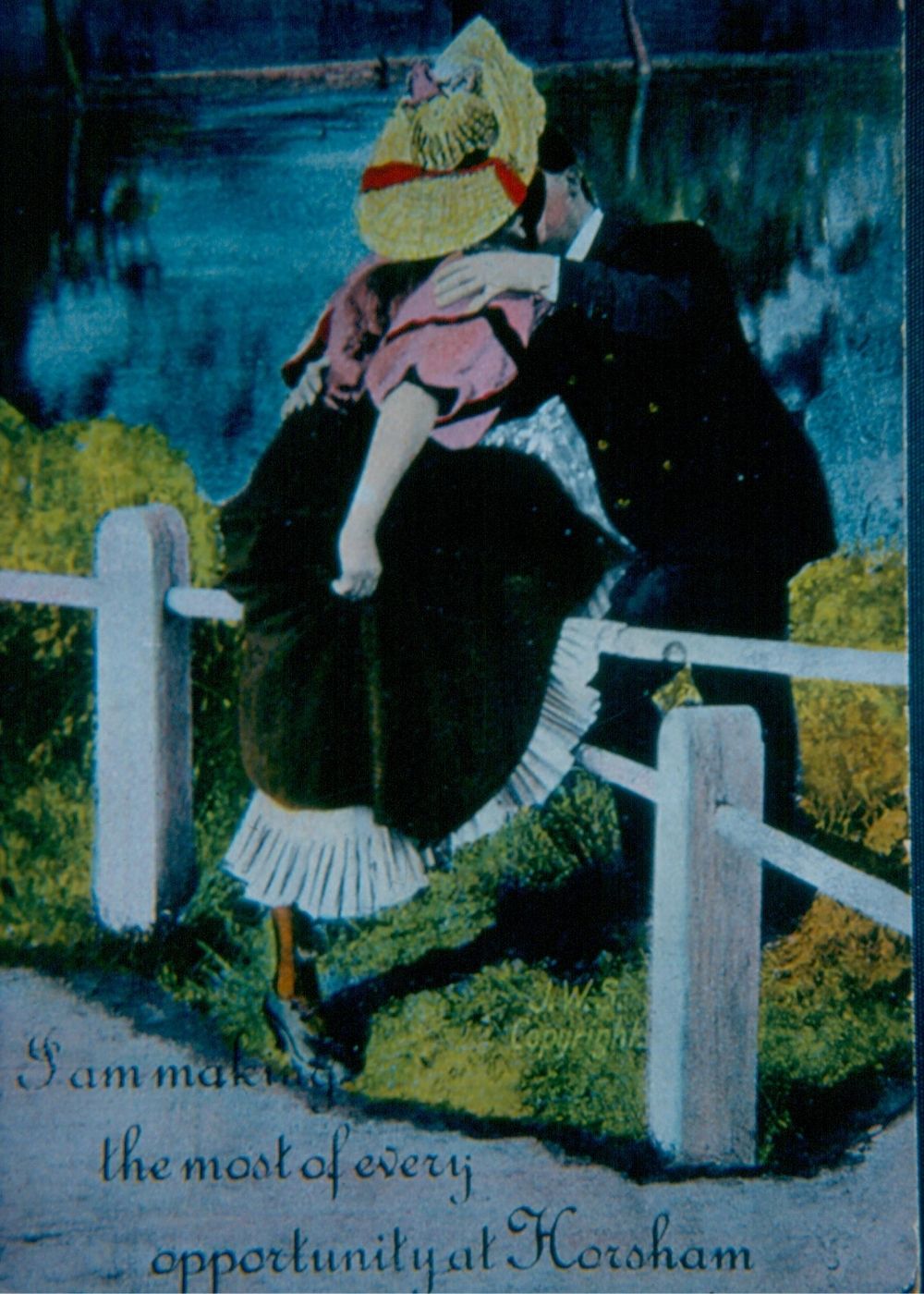 The story of the British pictorial postcard begins on the 14 September 1894 when a pen and ink sketch of Scarborough North Bay, produced by the town's Westborough Press, was posted. As usual though, its antecedents go some way back. Drab postcards, sent without envelopes, were issued as early as the 1860s. The real history begins back in 1840 with the establishment of the uniform postage paid for by a stamp, a system proposed by Rowland Hill in his booklet Post Office Reform; its importance and Practibility, a privately printed publication. Hill himself expressed the problem faced by the Post Office; "I early saw the terrible inconvenience of being poor…my mother was afraid the postman might bring a letter while she had no money to pay the postage."
On 10 January 1840, Uniform Penny Postage was introduced, and from 1st May, the official pre-paid Post Office envelopes were available to purchase. These envelopes were designed by Sir William Mulready and had a figure of Britannia with a lion sending out winged messengers to peoples of foreign land, children and the sick. They were unpopular and were soon replaced with plain envelopes. In 1841, the penny pink envelope (with an embossed stamp) was issued and proved so popular it remained in use for 61 years.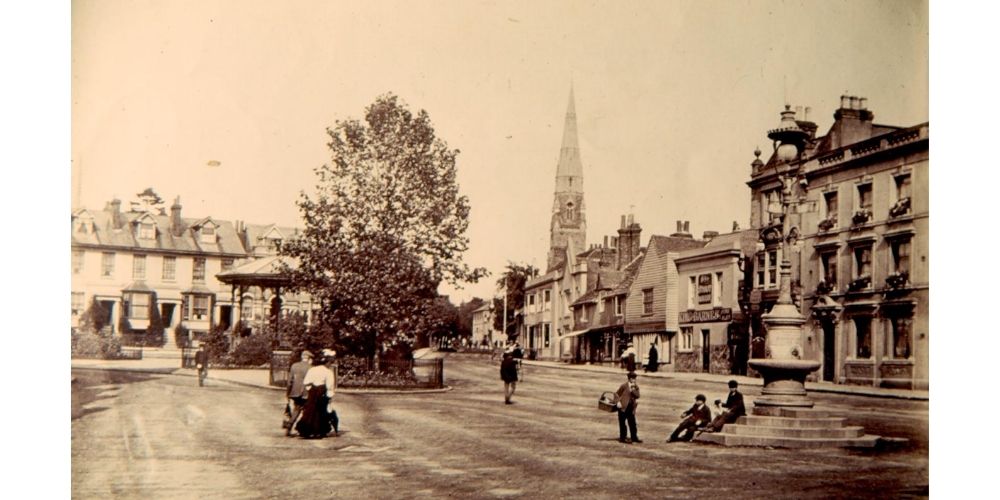 Dr Heinrich von Stephen (1831-97), of Germany, was the first to come up with the idea of a stiff piece of card of envelope size, written directly on and posted without envelope, whose nature would obviate the needs for all the civil pleasantries that wasted time and filled up a letter. In 1869 Austria Dr. E. Herrman (1839-1902), of Austria, developed the idea, suggesting that the postal rate would be half that of a letter. Therefore, it was that on 1October 1869 the world's first postcard was sent, the Correspondenze - Karte for use in the Austro-Hungarian Empire, where several million were sent in the first year.
A year later, the first British postcard was issued. They were imprinted with a half penny stamp and had plain backs. The postcards were bigger in size than most envelopes and therefore difficult to handle, so they were soon reduced in size to slightly larger than 4x3in. Within a year, 76 million of them had been sent. Unfortunately, people worried about prying eyes seeing their content in an era when defamation of character was supremely important and a few lawsuits followed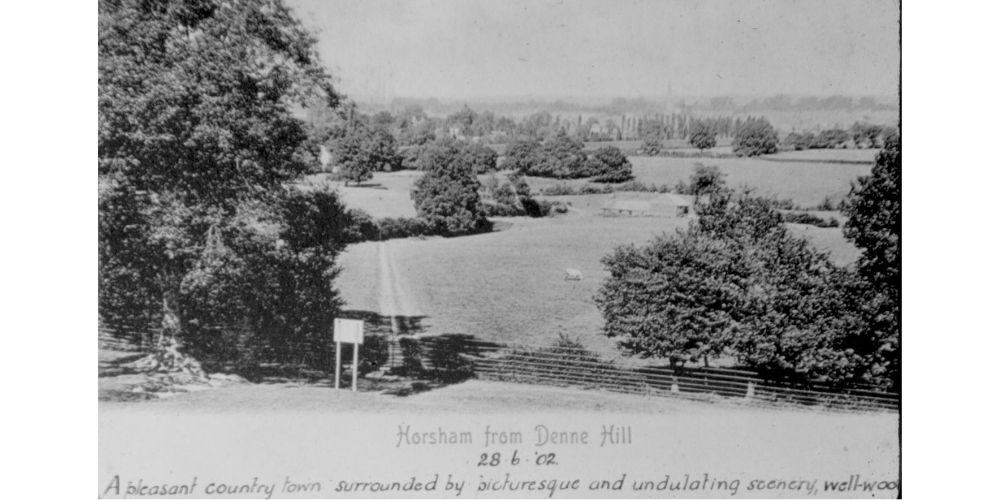 In 1875, the General Postal Union was formed attended by 22 delegates in Berne Switzerland. Some 4 years later, when 38 delegates attended the Paris conference, it became the Universal Postal Union allowing cross-country postage, with one postal rate fixed for all countries. This led to specific postal cards being issued for foreign posting.
Britain lagged behind its continental neighbours in issuing pictorial postcards because of various regulations. People were not allowed to mail a privately printed card with an adhesive stamp, they could only use officially issued cards. John Henniker Heaton MP fought against this regulation, and swept along by a ground swell of public opinion, forced a change. From 1 September 1894, privately printed cards could be sent with a half penny stamp.
Despite the change picture postcards still did not take off like that had among our Continental neighbours. This is likely to have been due to their size. The British postal authorities insisted on a small size, the same as the official postcard. In January the following year the Post Office allowed a new size of card, known as the Court Card that was 4 ½ by 3 ½ inches, a full inch shorter than those issued in Europe. Eventually on 1 November 1899, the Post Office relented and allowed the British post card to be the same size as the Universal Post Union agreed size. Now pictorial postcards were issued and by 1902, Britain had entered the golden age of postcard sending.
There was one further change that occurred, and for once Britain led the way. When plain postcards were issued, the front was the area with the address and stamp on it, the back was the blank side. With the arrival of the picture, the image filled the back and became the front. Regulations prohibited the correspondence to be on the same side as the address, so the picture had to leave space for the notes. However, by 1902 postcards were being sent because of the pictures, so in 1902 Frederick Hartmann issued the first card with a divided address panel, text panel and a full picture on the front. It was not until 1906-7 that this was universally adopted throughout the globe.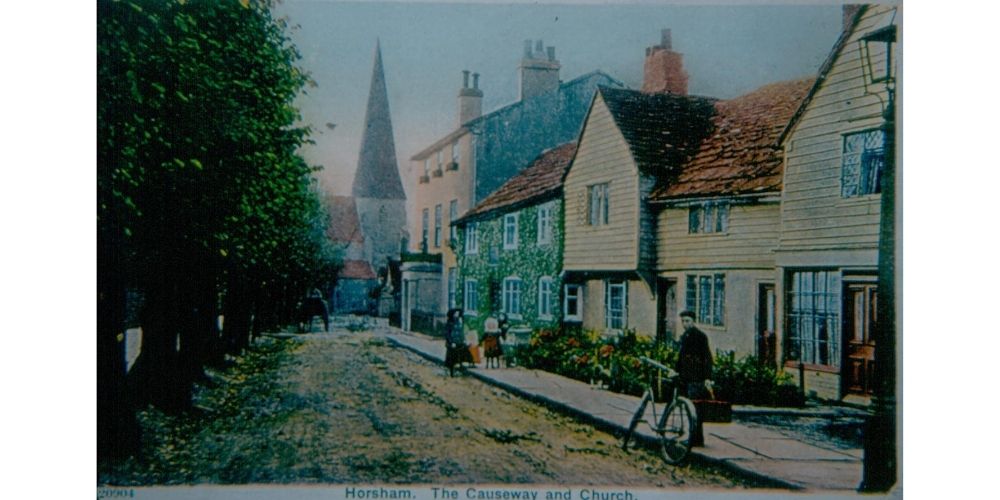 W. S. Russell – Horsham's postcard artist.
William Smart Russell was the son of a grocer, Julius Russell who set up business in West Street, was born around 1849. As an aside, his uncle Albion Russell set up business in Lewes following in his father's business of boot making. Albion went into partnership with his former apprentice and son-in law, Bromley (who was related to the Horsham clockmaker Bromley), thus becoming the firm Russell and Bromley.
William Smart Russell took over his father's business becoming W. S. Russell and Son, Tea and Family Grocer. He married twice and tragically lost his son Ralph in the First World War. Russell died on 15July 1930 and is buried in Denne Road Cemetery. According to Miss Pannett he lived at Vine Cottage in a "large rambling old house" in the Bishopric. He would take his collie dog for a walk, look through the morning mail, and then take his grey mare for a pre-breakfast ride. He took a great deal of interest in the town serving on various committees. As a hobby he pursued painting becoming skilled amateur artists, some of his illustrations were published by postcard companies. According to Miss Pannett he would go out painting on Thursday afternoon, during early closing.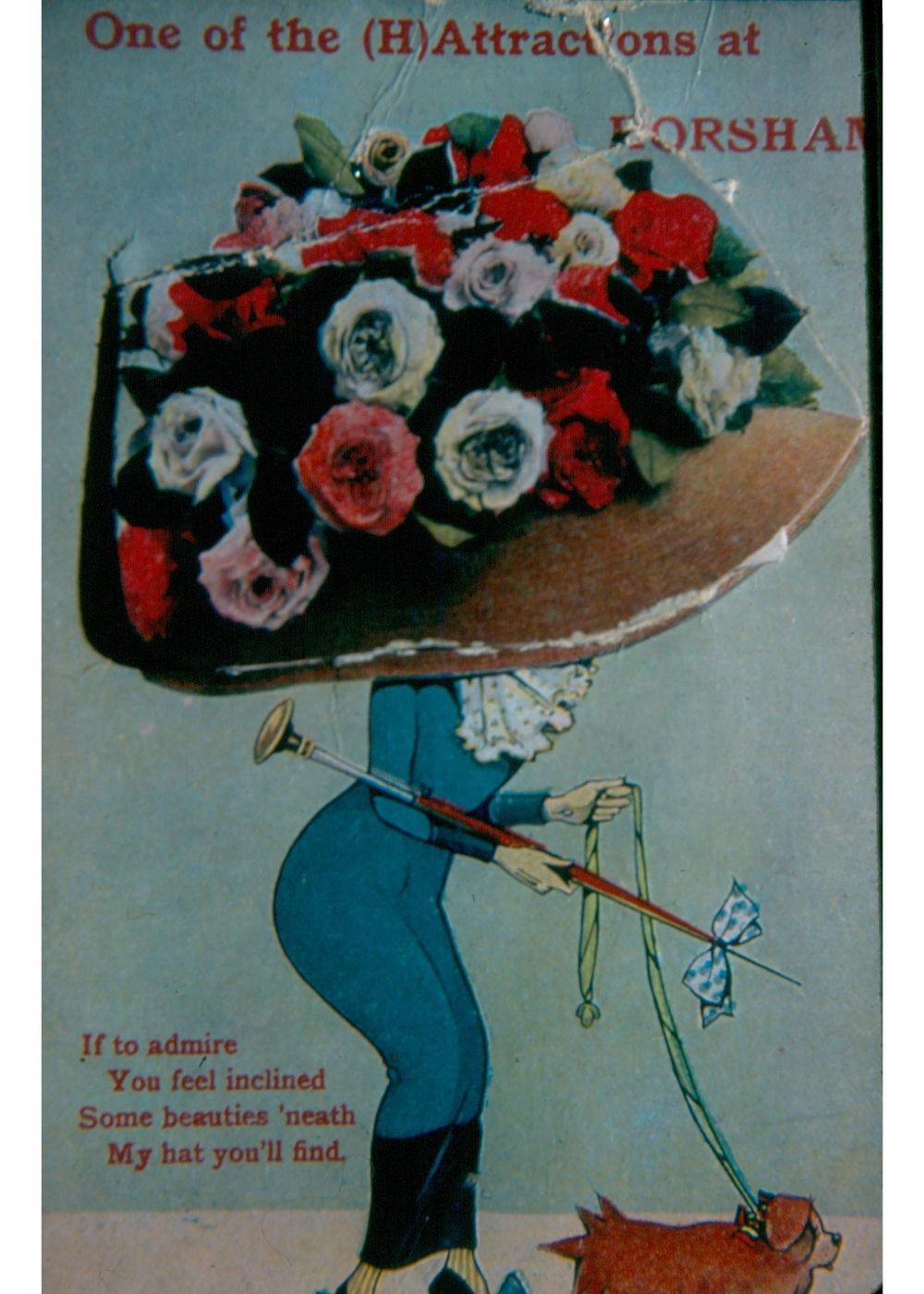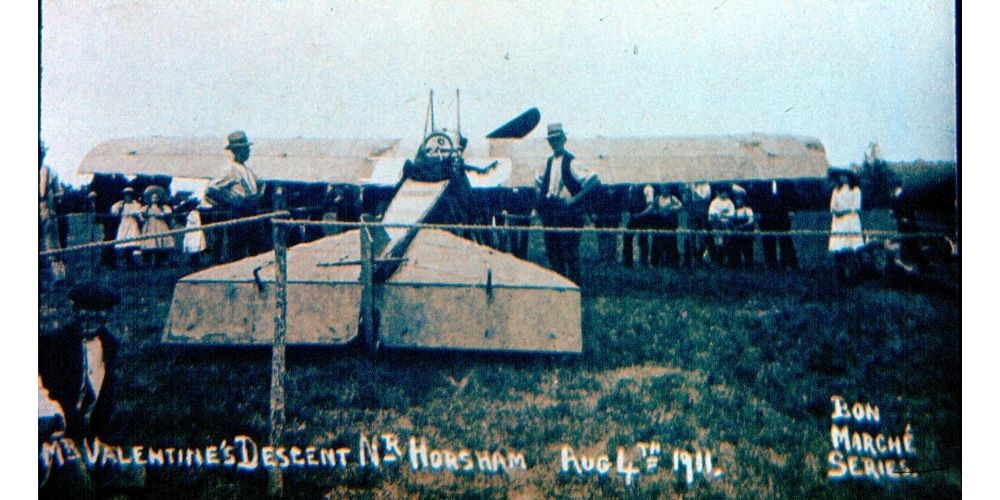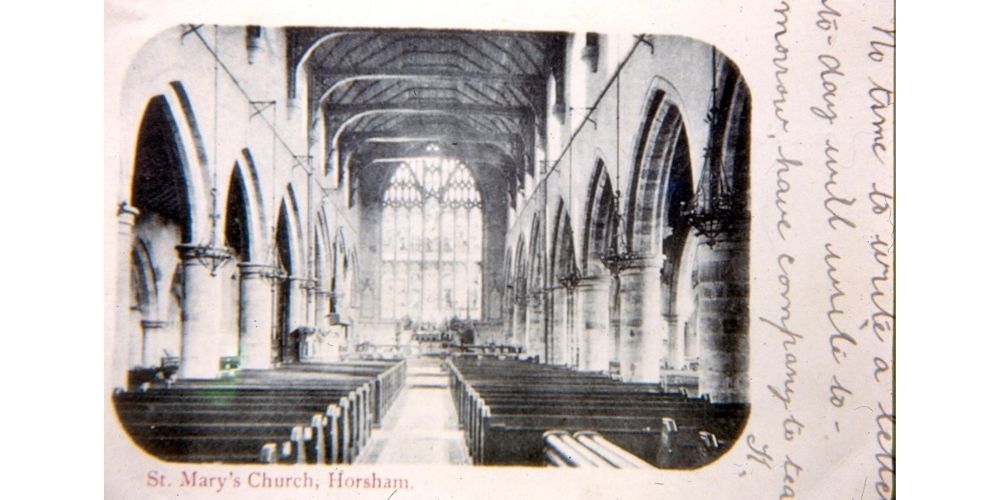 Published: 26 Aug 2020