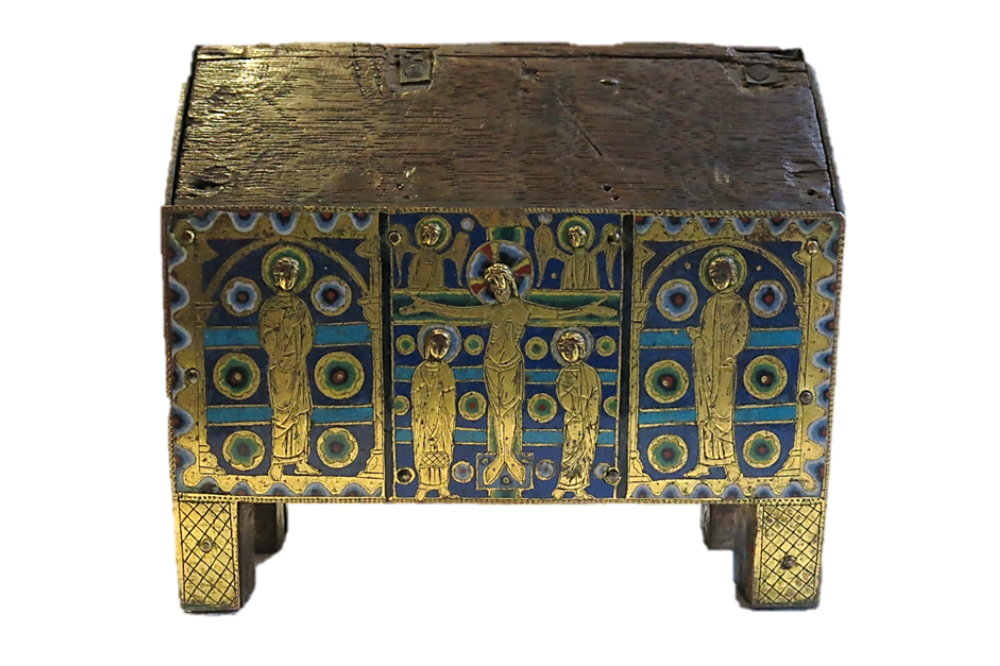 From Friday 21st October, the Shipley Reliquary (AD 1139) has been on display in our medieval gallery.
This is generously on loan to us from the Shipley Parochial Church's Council and until the 1970's it could be viewed within an alcove of St Mary the Virgin Church in Shipley, built by the Knights Templar sometime after 1139. Within the medieval collection, we can now explore the years following Norman conquest as Horsham developed its status as an early market town.
This medieval Christian casket was originally used to house physical remains of saints or items that saints had touched; for this reason, it was elaborately decorated. One of its most striking features is the colourful champlevé enamelling that was used to decorate the exterior copper plates, this was produced in the city of Limoges in the south-west France. Many reliquaries like this were made during this period of production that lasted from 1100-1350. During this time in Europe, the colour blue was mined from the Afghanistan stone lapis lazuli and was recognised for symbolising the holy and divine within religious depictions. However, within European art history, this colour is typically reserved for the virgin Mary and red for Jesus Christ.
The design shows the crucifixion of Christ with the Greek letters XPE above, the Virgin Mary and St John are also depicted standing nearby and other saints are on each side. Inside is a red cross painted onto the gesso (plaster) wall. The cross is vaguely Templar in appearance however the lower portion is extended, which is different from the Templar cross where all 4 extensions are the same size.
The French enamelling process known as champlevé translates to 'raised fields', that describes the way the engraving dug out beds for the copper plate to hold the powdered enamel. With which, the expensive lapis lazuli stone gives the bright blue colour. The copper plates were used as an alternative to gold that increased the affordability of reliquaries such as this. The clearest way to understand this process is through the V&A's video. During the period of production Limoges enamellers created vast numbers of religious artefacts. Around 7,000 are known to still exist today which is in part due to the large numbers produced during the medieval period.
The V&A is known to have a large collection of these and one of the most famous, the reliquary casket of St Thomas Beckett, is held by the Ashmolean in Oxford. Much like this example, the Shipley Reliquary is not known for what it contained, however other relics would contain items such as bones of saints or people such as Thomas Beckett or parts, believed to be, of the 'true cross', which Jesus was known to have died on.
Published: 04 Nov 2022