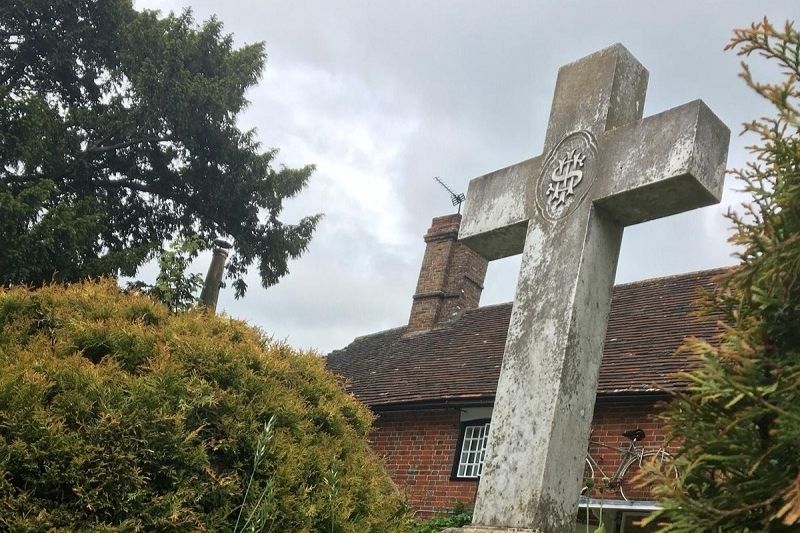 Start point
The George and Dragon at Dragons Green
Walking level: Easy
Distance: 8 miles
Refreshments: Available at the George and Dragon during opening hours and at the Knepp Safari shop at New Barn Farm Easter to 31 October.
Toilets: At the George and Dragon public house.
Dogs: Please keep dogs on leads and clean mess up. Please note in the Knepp Estate cattle, pigs and deer roam free. Do not approach or feed the wild animals, the cows and pigs here are no longer domesticated.
There are two stiles. Some of the route will be muddy in the winter months.
A self-guided walking trail exploring the special corner of Sussex Countryside that has entertained the Kings of England, provided arms for the building of the British Empire served as a temporary home for Second World War troops in the build up to D-day and now provides a refuge for wildlife protected by a groundbreaking rewilding project. You will pass two castles as well as the remnants of the iron industry. Please read the additional information below regarding walking through the Knepp Estate.
Key sites include:
The George and Dragon
Shipley Church St Mary the Virgin
Knepp Estate
Knepp Mill Pond
Old Knepp Castle Ruin
Shipley Windmill
The Zero Station
Additional Information
Knepp Castle Estate – A private estate that has transformed our thinking on re-wilding.
Walking here is a totally different experience to other places in Horsham District – that is what makes it so special.
There are free-roaming animals, including red and fallow deer, wild ponies, de-domesticated cattle and pigs.
The toilets on the campsite are not available to walkers; they are for campsite guests only. The safari shop is open to all for refreshments from Easter – end Oct, and most weekends through the winter.
For your safety and that of the wildlife – think of it as a Safari Park that allows you to walk through it with great care. It is a magical experience that relies on visitors observing the following:
don't approach, pet or feed the free-roaming animals - the cattle, horses and pigs are not 'domesticated' animals and it is important for your safety and theirs that they maintain a flight distance, as they would in the wild.
always keep dogs under strict control.
keep to public footpaths at all times.
take particular care of red deer stags and fallow bucks during the autumn rut when testosterone levels are high, and do not try to get close to photograph them.
obey all notices and 'wildlife only' signs – some routes may look like footpaths but they are service tracks used by our rangers. It is vitally important that the wildlife and free-roaming animals at Knepp have access to areas where they can mate, breed, have their young and socially interact without human disturbance.
To find out more about this amazing project please visit www.knepp.co.uk.
Tell us what you think
What do you think of our Heritage Trails? Please fill in our feedback form so we can improve any future trails.