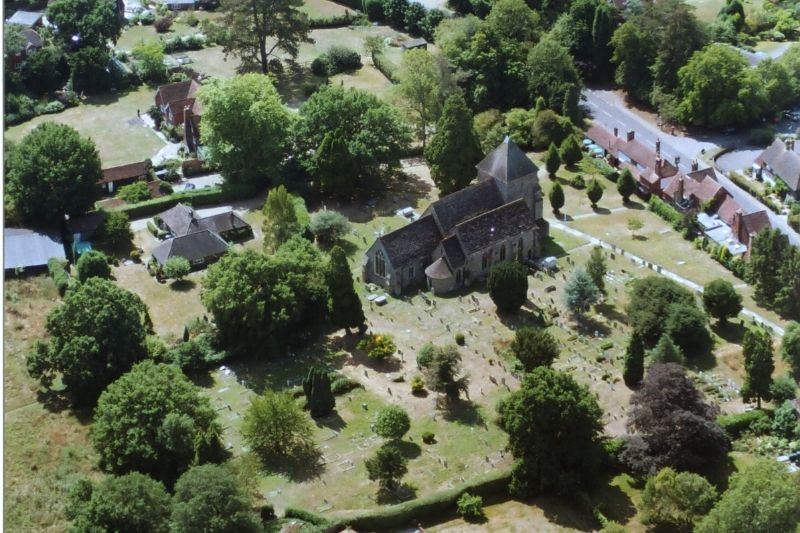 Start point
King's Head car park, Rudgwick. Arriva 63 bus stops here
Walking level: Easy
Distance: 3 miles
Refreshments: Kings Head, Rudgwick and The Milk Churn at Lynwick Street. Rudgwick.
Toilets: Toilets available in café/pub for customer use only.
Dogs: Please keep dogs on leads and clean up mess.
This trail is 3 miles. There is an alternative shorter route of 1.5 miles suitable for those with access needs: leave the trail after point 9
In this trail you will discover the heritage of a Sussex border village. The village is celebrated for its old houses, many from the 14th to the 16th century. The railway, now Downs Link path, opened up the community to the outside world in 1865. The ancient county border is defined by the Rudgwick Ridge of which the underlying clay was excellent for brickmaking, leading to the discovery of a new species of dinosaur.
Further information
Trail point 1: The 5-metre-long fossil herbivorous polacanthus (see the Millennium Plaque) "became" a dinosaur when William Blows renamed it in 2015. The King's Head has an unusual location, almost within the churchyard. Humphrey's shop, next door, was reached by steps from a main road – no wonder it closed!
Trail point 2: Church Hill House was purpose-built with doctor's surgery and pharmacy included in the plans.
Trail point 3: Imagine, this village hall was once the village school! Eames House has the only Horsham stone roof in the street. Dr Annie McCall also founded Clapham Midwifery Hospital and training school in London.
Trail point 4: Early timber-framed houses were 'open halls', no upper floor and no chimney. Later 'smoke bays' added a rudimentary fireplace with smoke leaving one end of the roof, allowing partial flooring. 'Chimney houses' with big chimney breasts, and upper floors completed the evolution. Church Street has all three, depending on the house's age.
Trail point 5: The road narrows at Two Wells, formerly Ivy Cottages, built on roadside waste, stealing some of the road width. An unusually good house for such a location.
Trail point 6: Six martlets grace the centre of Sussex county shields. Rudgwick Station, Station Road and the demolished Martlet Hotel were all built on land owned by James Braby, who had three martlets on his personal heraldic shield.
Trail point 7: Pennthorpe School, founded as a boarding school in Chislehurst, Kent, then evacuated to a big house at Gibbons Mill, Rudgwick in 1939. Gaskyns was purchased after the war. From 50 boy boarders, it is now a large mixed-sex day school.
Trail point 8: The Guildford to Horsham railway opened in 1865 but closed in 1965. Rudgwick celebrated the 2015 150th anniversary. The station put Rudgwick on the map!
Trail point 9: In local rolling countryside, the cutting at Church Street becomes a high embankment, then back to a cutting again at Lynwick Street.
Trail point 10: The county border ridge needed a tunnel to provide a level route, today home to protected bats.
Trail point 11: This medieval motte is on the Surrey side. Imagine it with no woodland. Get a sense of the view at the next point.
Trail point 12: Make sure to turn 3600 to take in both the Surrey Hills and the South Downs. In between, Rudgwick lies in the clay lowlands of the forested Low Weald, still giving an impression of the medieval Andredes weald forest, with wooded sandstone hills in the middle distance.
Trail point 13: Species of unique fossil dragonflies were also found in the clay pit here. By 2021, the pit will be returned to farmland, thanks to farmers, R Harrison & Sons, who also own the former brick kilns, home to the Milk Churn café and the microbrewery, Firebird.
Trail point 14: From Dukes and Cousins, to The Plough (4) on Church Street, is a Conservation Area.
Trail point 15: The church is open most days for visitors. The medieval walls now enclose, like many churches, a Victorian interior. There is plenty of good stained glass, modern wall hangings and a sense of peace after your walk.
Facebook: Rudgwick Preservation
Tell us what you think
What do you think of our Heritage Trails? Please fill in our feedback form so we can improve any future trails.