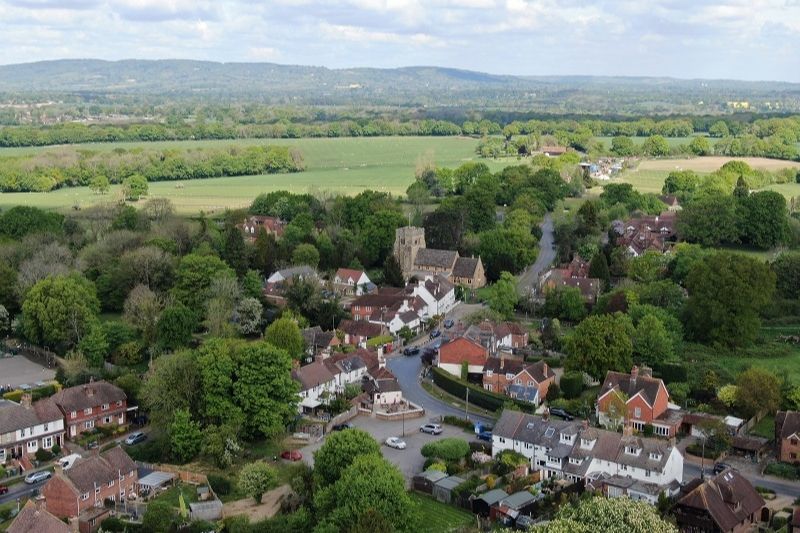 Start point
Rusper Parish car park
Walking level: Easy
Distance: 500 m
Refreshments: Rusper Village Stores and two pubs in the village.
Toilets: No public toilets available
Dogs: Please keep dogs on leads and clean mess up.
This self guided walking trail looks at 12 places of interest around the village
Rusper Trail is a gentle walk looking at 12 places of interest around the village. In the church there is a visitors book where you can add comments about the village. In the churchyard just opposite the entrance porch is the tomb of Allan Wallis who was High Sheriff of Sussex in 1708. The war memorial was built and dedicated in August 1921. Outside the west door are the tombs and many headstones of the Stone Family who lived at the Nunnery for over 200 years. The Nunnery was later owned by Thomas Sanctuary whilst he was High Sheriff of Sussex in 1830 he then sold it in 1839 to Robert Hurst who was MP for Horsham from 1812 to 1829.
Key sites include:
St Mary Magdalene Church
Churchyard
Church Cottages
Averys
Rusper School
The Star Inn
Rusper Community stores
The Plough
Ghyll Manor Hotel
Further information
If you wish to enjoy longer walks around the Parish and learn more about our Parish you are able to buy various booklets in the Rusper village stores.
The second edition of 'Walks around Rusper' has detailed walks via signposted footpaths taking you close to some of the big houses around Rusper. In the booklet are short circular walks around the village and longer walks to the outskirts of the Parish. The Nunnery first built around the mid 1500s and rebuilt in 1840 can be seen from two walks, walk 3 and walk 7.

Other booklets for sale are 'The Early Houses of Rusper' which includes houses from the 1400s to 1840 and early maps from 1594 and 1799. On the Tithe map of 1840 there are 75 properties in Rusper Parish amazingly 45 of those original 75 houses still exist and the booklet list owners and occupiers. Also a list of persons entitled to vote in 1877 includes names, abodes and where the property is situated and included is the Hearth Tax of 1662.

'Rusper in the Past' is a wonderful collection of black and white postcards from the early 1900s. All the houses still exist except for the Pigrome drawing of 1906 where you see the houses which were next to the church and demolished about 1900 making way for Church cottages you see today.
Tell us what you think
What do you think of our Heritage Trails? Please fill in our feedback form so we can improve any future trails.