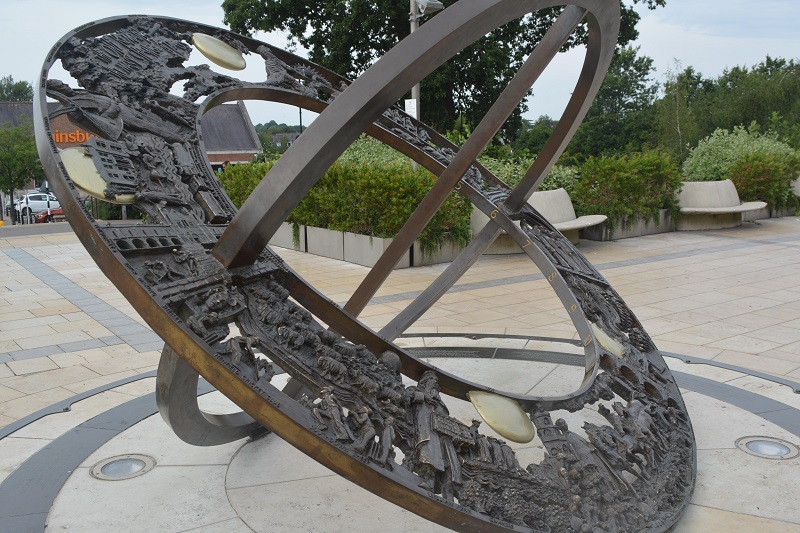 Start point
Poet's Corner in Horsham Park, across from Horsham Railway Station and bus stop.
Walking level: Easy
Distance: 6.2 miles / 10km
Refreshments: Cafe in Horsham Park. Warnham Nature Reserve has a cafe and car parking areas.
Toilets: Public toilets in town by the Sundial, Forum, the cafe in the park and at Warnham Nature Reserve cafe.
Self guided cycling trail around 10km . Please note that the trail is one way only, the safest route back to Horsham Park is in reverse. Arun Cottage and Field Place (Shelley's birthplace just outside of Warnham) are private residences.
This trail has been updated in 2022, the 200 year anniversary of Shelley's death, and has been extended to Warnham. The Horsham section of the trail is easy, off road, mostly along the Horsham Riverside Walk and family friendly.
Please note that the Riverside Walk sections are on some fairly narrow width shared user path sections and cyclists must give priority to pedestrians. There are controlled road crossings over Worthing Road and a hazardous crossing over Warnham Road requiring due care.
This literary self-guided cycling trail around Horsham features places associated with Shelley and offers an insight into his thoughts and works. You can sample his poetry and discover some of the places that influenced Shelley as a boy.
Key sites include:
Poet's Corner, Horsham Park
Former Kings Head Hotel (now Ask Italian)
Heritage Sundial, Forum
The Causeway
St Mary's Church
Arun Cottage
River Arun
Warnham Pond
St Margaret's Church
Further information
Videos to complement the marked stops
Trail point 1: Poets' Corner: Ode to the West Wind
Trail point 1: Mick Jagger reading from Adonais in 1969, days after Brian Jones's sudden death.
Trail point 2: Former Kings Head Hotel, once a busy coaching inn. The story of coaching inns
Trail point 3: The Heritage Sundial. 'To a cat in Distress' shows the young Shelley's awareness of suffering and poverty. 'The Masque of Anarchy'is a later poem written in response to news about the 'Peterloo massacre'. This video gives the background and a poetry reading. This poem urges people to engage in peaceful protest
and was one of the sources of inspiration for Mahatma Gandhi's and Dr. Martin Luther King's
movements.
Trail point 7: Riverside stop. The Cloud (poem inspired by the water cycle set to music). This poem is one of
the results of Shelley's alleged hours of observation of nature, and his fascination with water in all
its forms.
Trail point 8: Warnham Local Nature Reserve. This is where Shelley learnt to sail a boat. Not only did he love sailing
in real boats, he also remained fascinated by the process of folding paper boats, setting them adrift
and watching them be transported by water and wind. If you bought some Horsham gingerbread at the museum, why not pop into the cafe at the reserve and take time to find out about the story of gingerbread and who is making it now? Find out more about Horsham Gingerbread
Trail point 9: St Margaret' Church, Warnham. This is where Shelley was baptised. It is also here where he received his earliest education from the Church's Curate.
Shelley's first letter
This is the text of Shelley's first letter written just before his 11th birthday to his aunt Kate:
Monday July 18 1803
Miss Kate
Horsham
Sussex
Dear Kate
We have proposed a day at the pond next Wednesday, and if you will come tomorrow morning I would be much obliged
to you, and if you could anyhow bring Tom over to stay all the night, I would thank you. We are to have a cold dinner
over at the pond and come home to eat a bit of roast chicken and peas about nine o'clock. Mama depends upon you
bringing Tom over tomorrow, and if you don't we shall be very much disappointed. Tell the bearer not to forget to bring
me a fairing, which is some ginger-bread, sweetmeat, hunting-nuts and a pocket book. Now I end.
I am not
Your obedient servant
P. B. Shelley
Tell us what you think
What do you think of our Heritage Trails? Please fill in our feedback form so we can improve any future trails.