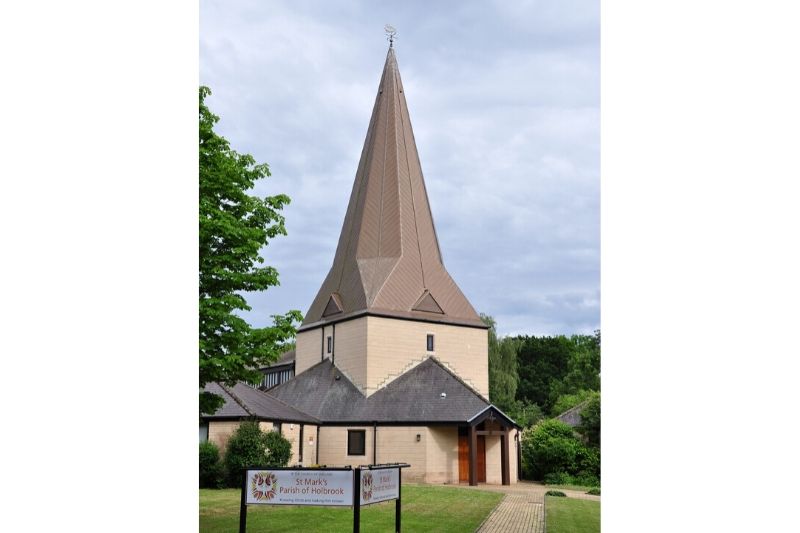 Start point
Sussex Barn Pub, St Mark's Lane
Walking level: Easy
Distance: 1.7 miles
Refreshments: Sussex Barn Pub
Toilets: Sussex Barn Pub
Dogs: Please keep dogs on leads and clean mess up.
A pavement trail with a gentle incline and descent. North Heath Lane is a busy road, you are advised to use the designated crossing points and traffic islands.
Walk this trail to discover the history of Wimblehurst with its magnificent lost house, concealed listed property and mighty trees that mark the boundaries of forgotten farms. Learn about the notable people who over the centuries helped to shape the town and northern outskirts of Horsham.
Horsham Riverside Walk
This trail also connects to Horsham Riverside Walk, a 13-mile loop around the town.
Author's note: On moving into the area, I was keen to know more about my surroundings. Large specimen trees, high brick walls, dense hedges and obscured buildings all intrigued me. As there were only a few written records to be found in the Horsham Museum, I relied on private research from the owners and local historians when compiling this trail.
Bibliography
You may want to follow up the trail by looking at the following additional sources.
Braby family history
John Braby of Wimblehurst, by Roger Nash, Horsham Society Newsletter October 2015.
The Buildings of Wimblehurst & the Braby family, by Roger Nash & Susan C Djabri. Horsham Heritage Issue 21
Allcard family history
Landed families.blogspot.com.2018/01/267-allcard-of-burton-closes-and html
The Allcards of Wimblehurst House. A Brief History, by Martin White - April 2012 (draft).
Edward Allcard & his family: generous town benefactors, by Brian Slyfied - The Horsham Society Newsletter Nov 2006 pages 77-78;
Friends of the Hospital. Horsham Hospital 1892-2009, by David Briffett. ISBN 978-0-9515170
Wimblehurst Lodge
Horsham District Council Town list page 11.
Dendy's
Extracts of personal documents courtesy of M Russell, written by Susan C Djabri.
Flagstones
Extracts of personal documents courtesy of J Short, written by Martin White.
Horsham District Council Town List Page 11
Tell us what you think
What do you think of our Heritage Trails? Please fill in our feedback form so we can improve any future trails.